What is the aorta?
The aorta is your body's largest blood vessel, or artery.  It carries blood from your heart throughout your body.  Arteries branch off from the aorta, bringing blood to your:
Head (the innominate and left common carotid arteries)
Arms (the right and left subclavian arteries)
Spinal cord (the intercostal arteries)
Stomach, liver, and pancreas (the celiac artery)
Intestines (the superior and inferior mesenteric arteries)
Kidneys (the renal arteries)
Legs (the iliac arteries)
The aorta is a tube made of three layers that promote the movement of blood through the body.  These layers are made of elastic tissues and blood vessels.  The layers are called the intima, media, and adventitia.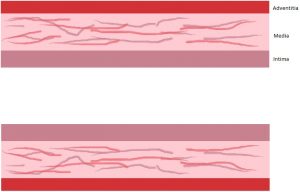 What happens when the aorta dissects?
Aortic dissection is caused by a tear or rip in the inner layer of the aortic wall.  Since the inner layer is called the intima, your doctor may refer to this as an intimal tear.  When the tear occurs, blood from the heart can enter the wall of the aorta.  This creates a new channel for blood, called the false lumen.  Blood entering the false lumen can move through the middle, or medial, layer of the aorta, expanding the false lumen.
I have an intramural hematoma.  Is that similar to dissection?
Like an aortic dissection, patients with an intramural hematoma have blood in the aortic wall.  In this case, the blood comes from ruptured vessels within the aortic wall, rather than entering the false lumen through a tear.  Many doctors treat intramural hematoma like they treat dissection.
What causes dissection?
Dissection can happen for a variety of reasons.  While it is generally seen in patients who are 60-80 years old, it can happen at any age.  Some factors that contribute to dissection include:
High blood pressure, or hypertension.  Having high blood pressure, especially when it is not properly treated with medications, can put stress on the aorta.  This stress can lead to dissection.
Aortic aneurysm.  A large aorta, or aneurysm, can weaken the aortic wall, making dissection more likely.
Connective tissue diseases.  Connective tissues diseases are genetic conditions that influence connective tissues throughout the body.  The aorta gets strength from connective tissues in the wall.  Patients with these conditions have a disruption of these fibers, and are at a greater risk for dissection.  If you have connective tissue disease, your doctor may recommend having surgery if your aorta reaches a certain size in order to prevent dissection.  Connective tissues diseases include:

Marfan Syndrome
Loeys-Dietz Syndrome
Vascular Ehlers-Danlos Syndrome
Turner Syndrome

Family history of aortic disease.  Sometimes, families carry a gene mutation that weakens the aortic wall.  These genes are not associated with a specific connective tissue disease, but can still lead to dissection.  Families who have a history of aneurysm or dissection, especially at a young age, should discuss with their doctor whether all members of the family should have imaging to look at their aorta.
Atherosclerosis.  Atherosclerosis is plaque that forms in arteries.  In the aorta, these plaques can make the wall stiff and less responsive to changes in your blood pressure.  Plaques can also break off the aortic wall, which allows blood to enter the middle layer of the aorta and create a false lumen.
Cocaine use.  Cocaine raises the blood pressure to dangerous levels, which can result in a tear in the aortic wall.  Continued use of cocaine can also weaken the wall of the aorta.
Smoking.  Smoking can increase your blood pressure, cause plaque to form in your arteries, and also weaken the aortic wall.  These factors can all lead to aortic dissection.  If you smoke, especially if you are already at risk for dissection, you should talk to your doctor about programs to help you quit.
Cardiac surgery.  During cardiac surgery, a surgeon often has to place a clamp on the aorta to stop your blood from flowing.  This clamp can weaken the aortic wall and may make some patients more likely to have an aortic dissection.
What are the different types of dissection?
Type A dissections start between the part of your aorta closest to your heart and the artery which supplies blood to your left arm (left subclavian artery).
Type B dissections occur in the area of the aorta between the left subclavian artery and the part of the aorta that branches into the leg arteries (aortic bifurcation).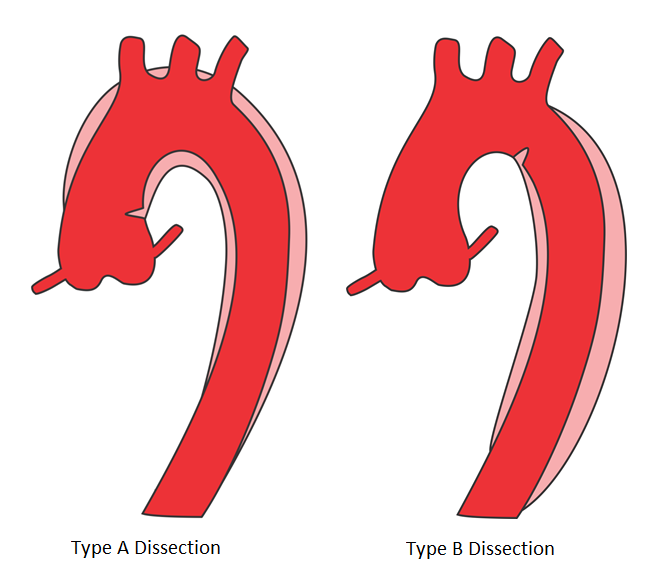 What is the treatment?
Treatment options depend on dissection type, complications, and the site of tear.
Surgery is when the surgeon removes part of your damaged aorta and replaces it with a graft (a tube of synthetic material).  This is a complex procedure.  It is suitable for most Type A patients and some complicated Type B patients.
Endovascular management, or TEVAR, is a less invasive surgery.  The surgeon inserts a covered stent graft through a large artery in your arm or leg.  The goal of this procedure is to cover the torn portion of the aorta.  It is most suitable for some Type B patients.
Medicines are given with the goal of reducing blood pressure.  This helps to prevent an increase in the dissection or aortic rupture.  All patients should work with their doctor to control their blood pressure.  Many Type B patients do very well with medication and do not need a procedure.
What can happen when you have a dissection?
Aortic dissection can cause serious complications.  It can prevent blood from flowing to crucial organs, like your brain, or to your arms and legs.  If the dissection blocks blood flow to an organ, it will not be able to function properly.  For example, your kidneys could stop working if the renal arteries do not receive enough blood.
Dissection may cause aortic rupture, which is when the aorta, which brings blood from your heart, bursts open.  Dissection weakens the aortic wall, which makes rupture more likely.  It can also cause the aorta to become enlarged, known as an aneurysm.
Your doctor or surgeon will treat you in order to prevent or lessen these complications.  Proper follow-up, including taking your blood pressure medication and going to your imaging and clinic appointments, will decrease the risk of these events.
What do I do now?
It is possible to live a full live after aortic dissection through good blood pressure control and regular communication with your doctor.  This website was designed to guide you in working with your clinicians, families, caregivers, and friends to answer questions and help you create healthy habits.
For more information, we have patient pages available here and here.